---
Recent Releases from Ballistic Music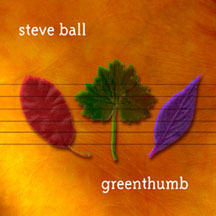 "Greenthumb"
http://www.seattlecircle.com/merchandise
1. curtains 2. dark 3. back in NYC 4. love song 5. message in a bottle
6. spectacle 7. greenthumb

---
Recently Released Titles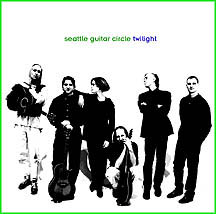 "Twilight
Seattle Guitar Circle

steve ball -- bob williams -- jaxie binder -- curt golden -- bill rieflin -- dean jensen
1. invocation 2. bloed spoed 3. maryan 4. circulation
5. one of one thousand regrets 6. mars effect 7. circulation
8. paper tiger 9. Ab circulation 10. twilight 11. anniversary circulation
---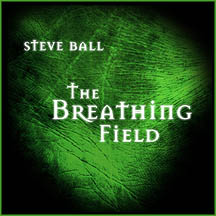 "The Breathing Field"
1. greenthumb 2. hollow 3. i want to live here
4. when the money's gone 5. the breathing field
6. spectacle (instrumental) 7. greenthumb (instrumental)
a recent review
The Rocket
May 26th, 1999

Steve Ball
"The Breathing Field"
(Ballistic Music)
"A picker at the gates of a new acoustic dawn, Steve Ball combines a singer/songwriter's intimate delivery with a prog-rocker's cosmological vision. These two contrasting facets of his oeuvre flow naturally from two of Ball's recent affiliations: A one-time member of Robert Fripp and the League of Crafty Guitarists, Ball is also a founder of the Seattle Guitar Circle, an instruction and performance guild for all who've taken up the fretboard as a priestly vocation. As such, on this seven-song EP, while his vocals are clear and his verbal constructions focused, it is, and always will be, Ball's quicksilver string sonatas which draw the world to him. Ball backs up his vocals with cascading streams of fat, round, finger-picked notes. He gives breadth and punch to his compositions through occasional splashes of subdued piano and robust pulls from an ominous bowed bass. While most of his sonic world is painted in the bright tonal colors and chiming cadences of a young Alex DeGrassi, some of the nervy backup effects suggest an equally young Michael Hedges. The title track, loaded with haunting delay, is positively Fripp-ish. My only criticism of this disc is its near-criminal hiding of its best numbers. The final two cuts, unmentioned in the liner notes and hidden behind 10 minutes of silence, are gripping studies in post-ambient chamber music. Percussive, with hints of dissonance and melodies roiling in the low strings, they should have anchored the disc and not been pushed past a long pause into a game of audiophile hide-and-seek."

-Dave Liljengren



---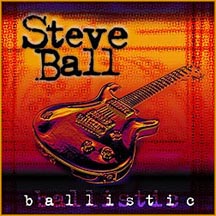 "Ballistic" was released on August 1, 1998.


Acoustic Ballistic Boxer (140K)
1. acoustic ballistic boxer 2. la casa de nada 3. electric ballistic boxer
4. ballistic - alien autopsy re-mix 5. ballistic - gt lollipop re-mix
6. los cedros (la casa de nada re-mix) 7. ballistic
---
---
For more information about ordering these CDs
and MP3 audio previews, please visit
http://www.steveball.com/merchandise
- or contact -