Steve Ball Roadshow

online
press-kit
Quick Links
Other Links
Official Group Name: "The Steve Ball Roadshow"
Quick Description: "Intricate, Interlocking Acoustic Guitar Pop"

Steve Ball Roadshow music features gentle, textural, hummable songs arranged for multiple voices and interlocking acoustic guitars. The live set features an exceptional blend of musical influences including Robert Fripp and the League of Crafty Guitarists, Steve Reich, Kate Bush, Simon and Garfunkle, Jonatha Brooke, U2, Pete Townshend, David Byrne, Richard Thompson, the Cars, the Church, U2, Yes, and Peter Gabriel.

The Steve Ball Roadshow (SBRS) has been playing in and all around the Seattle area since 1997 in different configurations, both acoustic and electric. The current lineup features combinations of guitarists Austin-transplant Travis Hartnett, Portland-transplant Travis Metcalf, and Canadian-transplant Derek DiFilippo playing acoustic and electric guitars and basses. All members of the Roadshow sing.

The current lineup has recently recorded and released three new full length CDs -- 45 new songs from our recent live repertoire:
The first CD ("Roadshow") features original acoustic math-pop short story songs arranged for multiple voices, multiple guitars, drums and percussion.
The second CD ("Naïve Melodies") features obscure but familiar songs clothed in unique arrangements for multiple voices and multiple guitars.
The third CD ("Knotwork") features ambient textures and remixed instrumental versions of some of the songs on the first two CDs.
Check out the new 3-CD "SBBS" (Steve Ball Box Set)
Additional Music and Video Samples
* * *
Steve Ball Extended History
Over the last two decades, Steve Ball has toured, recorded, and performed all over world, most visibly as a member of Robert Fripp and the League of Crafty Guitarists and various League spin-off groups. He is an active and founding member of the Seattle Guitar Circle, and formerly a member of Prometheus, as well as acclaimed Discipline Global Mobile artists Los Gauchos Alemanes, and the Electric Gauchos.

Seattle Circle
Steve is also founder of the Seattle Circle, a local non-profit organization that sponsors music workshops, seminars, and concerts in the Puget Sound area. The Seattle Circle currently has about 30 local members, many of whom have moved to Seattle specifically to work with this project. SC meets weekly for educational work in guitar and performance technique. In the past, the Seattle Circle organized and led two intensive weekend guitar seminars for over 75 aspiring and professional guitarists from around the US. They also organized and presented a sold-out festival-style show at the Broadway Performance Hall featuring internationally renowned artists, the California Guitar Trio, Trey Gunn (of King Crimson), and Los Gauchos (from South America). The Seattle Circle has also sponsored week-long educational seminars with British guitar legend, Robert Fripp in the Seattle area. The long-term mission of the Seattle Circle is to establish a music and performance school in the Seattle area for aspiring and practicing guitarists. The Seattle Guitar Circle is the primary public performance troupe of the Seattle Circle organization.

Other Music Work
From 1987-1992, Steve was both a guitarist with and manager of the League of Crafty Guitarists, an international performance and recording ensemble founded by British rock music legend Robert Fripp. The League has toured and performed all over the world many times, and produced over 25 internationally acclaimed League-related albums.

From 1994 - 1998, Steve made frequent trips to Argentina, playing guitar with Fripp/League spin-off band, Los Gauchos Alemanes. In 1992, he also became a partner in a record label and publishing company called Deep Music. The Deep Music catalog currently has eight titles in its catalog including a progressive collaboration with Sanford Ponder called Prometheus, and two titles featuring orchestrated fractal music by the LA ensemble, Botanica. The catalog also includes the first studio recordings by Boston singer, Mary Lou Lord.
Side Note
Steve Ball is also widely known among die-hard King Crimson fans as the designer of the knotwork on the new remasted KC Discipline CD cover, as well as the King Crimson/Discipline Global Mobile/Possible productions and the Guitar Craft knotwork:


Steve Ball Selected Discography ( <-- full discography link)
"Get Crafty" Robert Fripp and the League of Crafty Guitarists, 1988
"Live in Victoriaville" Robert Fripp and the League of Crafty Guitarists, 1989
"Show of Hands" Robert Fripp and the League of Crafty Guitarists, 1990
"Intergalactic Boogie Express" Robert Fripp and the League of Crafty Guitarists, 1991
"Yamanashi Blues" The California Guitar Trio, 1992
"Prometheus" Prometheus, with Sanford Ponder, Pat Mastelotto, 1994
"Invitation" The California Guitar Trio, 1994
"Sometimes God Hides: the Young Person's Guide to Discipline -Discipline Records, 1996
"Skyward" Joe Skyward, Sky Cries Mary, Posies, and Sunny Day Real Estate, CZ Records 1998
"Little Beast" Los Gauchos, Discipline Global Mobile records re-issue, 1998
"Blue Orb" Electric Gauchos, electric guitar orchestra, 1998
"Ballistic" Steve Ball, re-mix CD featuring "the Boxer", 1999
"Birth of a Giant" Bill Rieflin with Robert Fripp and Trey Gunn. 1999
"The Breathing Field" Steve Ball, acoustic songs, 2000
"Greenthumb" Steve Ball, songs for acoustic guitar orchestra, 2001
* * *
Select Press Quotes

"A picker at the gates of a new acoustic dawn, Steve Ball combines a singer/songwriter's intimate delivery with a prog-rocker's cosmological vision. These two contrasting facets of his oeuvre flow naturally from two of Ball's recent affiliations: A one-time member of Robert Fripp and the League of Crafty Guitarists, Ball is also the founder of the Seattle Guitar Circle, an instruction and performance guild for all who've taken up the fretboard as a priestly vocation. As such, on this seven-song EP, while his vocals are clear and his verbal constructions focused, it is, and always will be, Ball's quicksilver string sonatas which draw the world to him. Ball backs up his vocals with cascading streams of fat, round, finger-picked notes. He gives breadth and punch to his compositions through occasional splashes of subdued piano and robust pulls from an ominous bowed bass. While most of his sonic world is painted in the bright tonal colors and chiming cadences of a young Alex DeGrassi, some of the nervy backup effects suggest an equally young Michael Hedges. The title track, loaded with haunting delay, is positively Fripp-ish. My only criticism of this disc is its near-criminal hiding of its best numbers. The final two cuts, unmentioned in the liner notes and hidden behind 10 minutes of silence, are gripping studies in post-ambient chamber music. Percussive, with hints of dissonance and melodies roiling in the low strings, they should have anchored the disc and not been pushed past a long pause into a game of audiophile hide-and-seek."
- Dave Liljengren, The Rocket
* * *
Promotional Photos for use by Media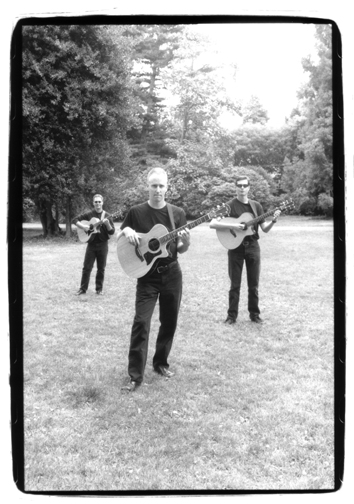 Travis Metcalf, Steve Ball, Travis Hartnett
large version: bw_roadshow1.jpg (400 dpi, 1.4M) - right click, "Save As"
Photo credit: Lisa Herrman, ©2002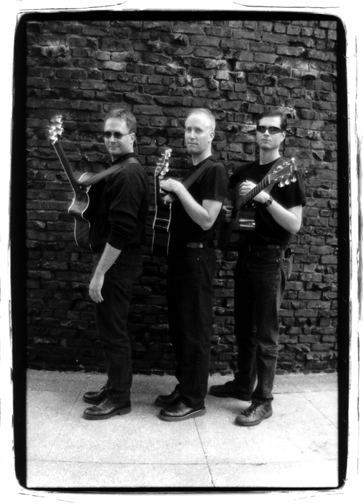 Travis Metcalf, Steve Ball, Travis Hartnett
large version: bw_roadshow3.jpg (400 dpi, 1.2M) - right click, "Save As"
Photo credit: Lisa Herrman, ©2002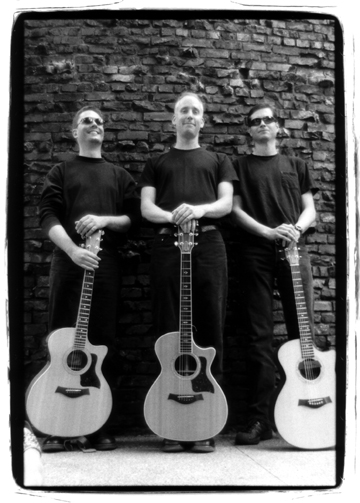 Travis Metcalf, Steve Ball, Travis Hartnett
large version: bw_roadshow5.jpg (400 dpi, 1.2M) - right click, "Save As"
Photo credit: Lisa Herrman, ©2002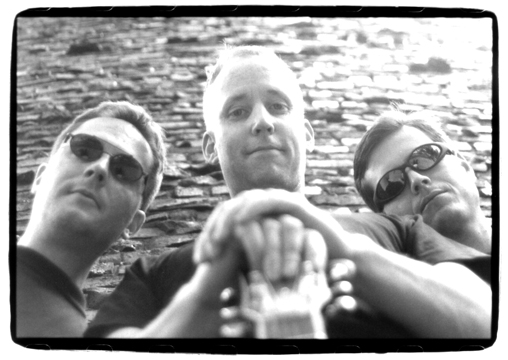 Travis Metcalf, Steve Ball, Travis Hartnett
large version: bw_roadshow4.jpg (400 dpi, 1.1M) - right click, "Save As"
Photo credit: Lisa Herrman, ©2002
0
Travis Metcalf, Steve Ball, Travis Hartnett
large version: bw_roadshow9.jpg (400 dpi, 1.2M) - right click, "Save As"
Photo credit: Lisa Herrman, ©2002

Travis Metcalf, Travis Hartnett, Steve Ball
large version: cp_roadshow5.jpg (400 dpi, 2.9M) - right click, "Save As"
Photo credit: Lisa Herrman, ©2002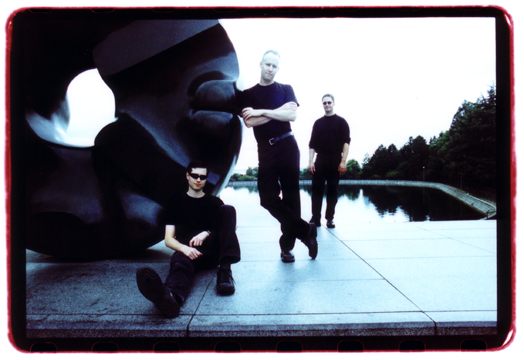 Travis Hartnett, Steve Ball, Travis Metcalf
large version: cp_roadshow6.jpg (400 dpi, 2.3M) - right click, "Save As"
Photo credit: Lisa Herrman, ©2002

Travis Hartnett, Steve Ball, Travis Metcalf
large version: cp_roadshow7.jpg (400 dpi, 2.6M) - right click, "Save As"
Photo credit: Lisa Herrman, ©2002
* * *
* * *
Press Inquiries, contact: steveball at steveball dot com